Virginia's Hunt Country Trail Ride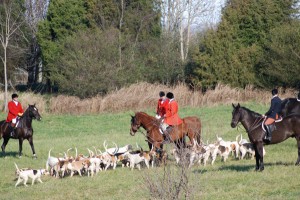 Ride the beautiful and historic area known as the "Constitution Route" just as the forefathers did. Riding well mannered sport horses, you will explore the countryside where three of the first five Presidents made their homes. For those willing to haul, you may also bring your own horse!
You will ride where Generals Grant and Lee met for the first time in battle and where wine lovers are enjoying the fruits of the "eastern Napa Valley". This is quintessential hunt country – home of the Keswick hunt with many fabulous civil war trails whose variety is perfect for interesting and exciting riding.
The ride passes through Shenandoah National Park with its bubbling streams and woodland paths which echo the tales of Civil War soldiers, slaves and citizens who lived when the nation was at war with itself. The same area is also home to trails that wind through the battlefield at Manassas as well as the Blue Ridge Mountains, the trails originally forged by the first settlers and that offer spectacular panoramic views of the countryside.
It is impossible to ride in this area without seeing the influence and the remnants of the Civil War, even today. The Manassas Battlefield is best known as the place where the war could have been irrevocably changed during at least two of the main battles fought there and you will find it hard to imagine the clash of power that occurred when you see the tranquility resident today.
For those that are interested, fox hunting is available with several of the local hunts including the Keswick or Bull Run Hunts during hunting season (please inquire for full details). If you have never hunted and are interested to learn about it, be sure to ask about our "Learn to Foxhunt Program".
Dates: 6 Night/5 Day Program – arrive on Sunday, open all year
Program includes six nights accommodation, five days of guided trail riding, breakfast and lunch each day, horse, tack, guide and all taxes.
Rates: $1,495.00 USD per person in a shared room (Single Supplement $360.00 USD)
Dinner supplement for 6 nights: $210.00 USD per person (includes tax)
Dates: 3 Night/2 Day Program – arrive on Thursday, open all year
Program includes three nights accommodation, 2 days of guided trail riding, all meals, horse, tack, guide and all taxes.
Rates: $840.00 USD per person in a shared room (Single Supplement $195.00 USD)
Foxhunting – available during hunting season only and for experienced fox hunters.
Hunt with three of the following hunts: Old Dominion, Warrenton, Rappahannock, Bull Run, Casanova, Thornton Hill, Keswick
Supplement of $700.00 USD per person.
Ride Sign Up and Information
To find out more about this ride or to book this ride, please fill out the following form
featured rides
our rides
sample rides