Italy's "Best of Both Worlds" Trail Ride – A Taste of Italy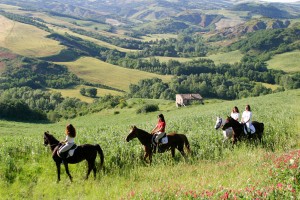 By popular demand – and because our clients seem to have such a difficult time choosing between our Roman Countryside Ride and our Tuscany Villa Ride – we've given you a little of both!
Your week begins at the country Relais, I Due Laghi, nestled in the rolling Etruscan hills about 45 minutes north of Rome. Exciting canters up long hills and around ancient Etruscan ruins wind their way to vistas overlooking Lakes Bracciano and Martignano. This area is a trail riders dream with miles of endless hills, Roman Roads and wonderful, energetic and fun horses with which to partner.
On Wednesday, you'll bid I Due Laghi a fond farewell and be taken north into the area of Siena, in the cypress lined hills of Tuscany. The remainder of your week will be full of fun and active rides each morning, in and along land that is a World Heritage Site. The rides follow Roman Roads to ancient fortress towns with reminders of the prominent Medici family at every turn. You will also meander through vineyards and farms that showcase the rich, fertility that make this area so renowned. The absence of large lakes or important rivers hardly leads people to associate it with water, yet this corner of Tuscany has very strong aquatic links – it's actually an island floating on a sea of scattered thermal springs!
This trip truly combines the best of both of these destinations and offers the utmost in comfort, exceptional riding and mouth watering homemade cuisine. It is in essence, a taste of Italy!
Dates: Sept. 5-11, Sept. 19-25, Oct. 3-9, Oct. 17-23
Rates: $1,985.00 USD per person in a shared room. (Single Supplement: $345.00 USD)
Includes: 6 nights hotel accommodation, 4 days of guided trail riding, all meals, midweek transfer, spa visit, cooking class, wine tasting and all local taxes.
Ride Sign Up and Information
To find out more about this ride or to book this ride, please fill out the following form
featured rides
our rides
sample rides