Ireland's Training and Trail Riding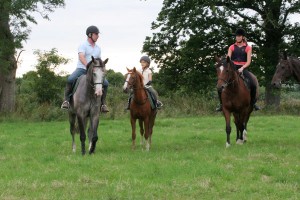 Featured in The New York Times, this ride is a great chance to hone your skills to advance to the next level, get back into riding after a hiatus or begin the equestrian adventure.
The Clonshire Equestrian Centre in the lovely town of Adare is well known for its excellent horses and superior instruction. The husband and wife team of Sue and Dan Foley cater to folks looking to work on the basics or have a week on the formidable cross country course. They even invite anyone interested in foxhunting to join them for a primer and on several hunts (additional fees associated).
Sue and Dan offer a customized program that gives special attention to individual needs and goals but in a relaxed and fun atmosphere. The week of training includes several hours each day as well as the chance to enjoy some active and fun trail rides in the surrounding countryside.
Dates: Open all year. Arrive on Sunday.
Rates:
$1,995.00 USD per person in a shared room (Single Supplement: $380.00 USD)
accommodation at The Dunraven Arms Hotel – designated a "Luxury Hotel of the World"
$1,620.00 USD per person
accommodation at The Clonshire Equestrian Centre
$1,265.00 USD per person
accommodation in The Self Catering Cottage at The Clonshire Equestrian Centre (2 person minimum required)
Click Here for Information on Ireland's Youth Riding Camp.
Ride Sign Up and Information
To find out more about this ride or to book this ride, please fill out the following form
featured rides
our rides
sample rides