Spain's Hidden Trails of the Sierra Nevada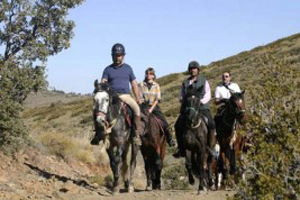 In the heart of Andalusia, this ride offers you the chance to discover the spectacular Sierra Nevada landscapes. Near Guadix, you will ride through canyons that open up to vast desert plains that then trail off into verdant forests and meadows in the mountains.
You will discover quaint white villages with architectural contrasts between Spanish and Arabian styles as this area was one of the last Moorish occupations in Spain. Your week of exploring these hidden paths and trails will culminate with a tour of Guadix and allow time for shopping and tasting the famous tapas – this is Andalusia at its best!
This ride is offered in both a 7 night and a 5 night version.
7 Night Inn to Inn Ride:
Dates: July 3-10, September 4-11, September 25-October 2, October 28-November 4
Rates: $1,695.00 USD per person in a shared room
(Single Supplement $235.00 USD)
5 Night Inn to Inn Ride:
Dates: June 19-24, Oct. 23-28
Rates: $1,265.00 USD per person in a shared room
(Single Supplement $180.00 USD)
Ride Sign Up and Information
To find out more about this ride or to book this ride, please fill out the following form
featured rides
our rides
sample rides