Peru's Machu Picchu Inn to Inn Trail Ride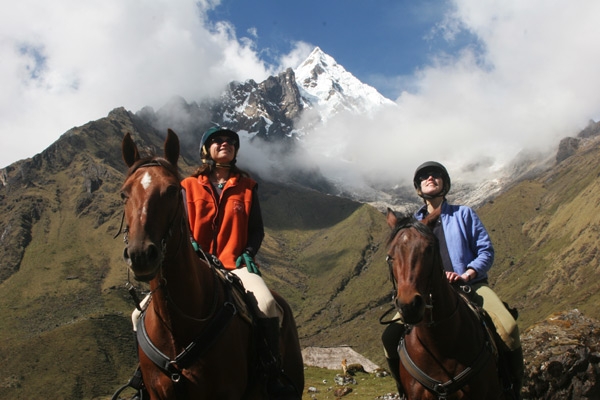 "This trip changed my life!" – that's how most clients describe this ride. You will have the unique chance to ride back in time on an ancient Inca trail, one that is only accessible on foot or by horseback. Seeing the plains and high mountains in this fashion offer you not only a firsthand experience with the lovely Quechua people and the ancient Incan traditions, but you will have an intimate portrait of life and travel on the Inca Trail as well as a tour of the ancient city of Machu Picchu. And due to this trails' remote location, you won't run into crowds of people.
Your trip begins and ends in the Incan capitol city of Cusco. After a tour of the city, you will be taken by vehicle to the start of your trek in the outskirts of the village of Mollepata, a quaint village situated on top of a mountain. You will ride on roads and ancient Incan trails each day as you travel from private eco luxury lodge to lodge.
The trails range from mountain roads to narrow paths along ridges, the views all the while, incredible. During the ride you will pass through lush valleys, cross gurgling streams and pass between the peaks of Humantay and Salkantay mountains, the highest elevation on the ride rounding out at 15,000 feet. You'll see Quechua villages, llamas, alpacas and if you look up, the mighty condor.
As you ride down out of the pass you enter a lush tropical forest that boasts over 100 types of orchids and you will welcome the shady trees that overhang your trail. The horses are Peruvian Quarter Horses and you will find them to be the only suitable mount for this rugged terrain. They are sure footed and can nimbly trot and canter over the rocky plains and then shift gears to ascend or descent 1,000 feet without missing a beat.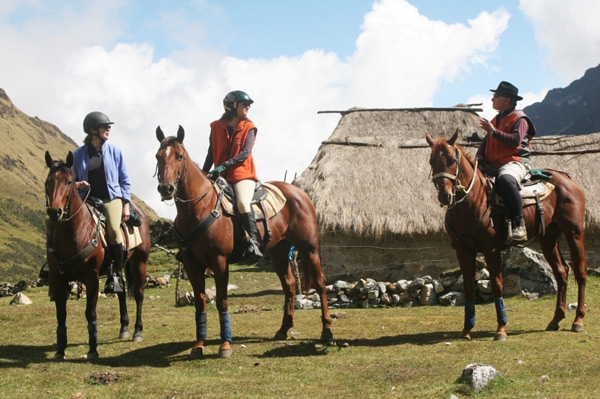 Each night your accommodations on the ride are in private, well appointed luxury eco lodges. Each lodge was designed to blend into the surrounding area and features warm, comfortable beds with fluffy down comforters, a home prepared three course meal and a welcoming Jacuzzi under the stars. The staff are local Quechua people that live and farm the area and maintain the link to their ancient ancestral roots.
** Read Featured Article About This Trip!
Dates (7 day / 6 night program): June 15-21, July 6-12, July 27-Aug. 2, Aug. 17-23, Sept. 7-13, Sept. 28-Oct. 4, Oct. 18-24
Rate: $2,445.00 USD per person sharing (Single Supplement: $635.00 USD)
Ride Sign Up and Information
To find out more about this ride or to book this ride, please fill out the following form
featured rides
our rides
sample rides