Equestrian Vacation Advertising
Sign Up Now To List Your Equestrian Ride on EquestrianVacations.com!
Full page ride listing in EquestrianVacations.com
Ride gets listed on every page of site
Three photos included on listing page
Additional listing upgrades available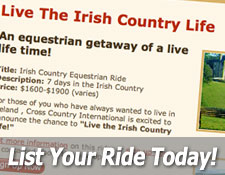 Get a full page description of your equestrian ride and listed in our rides list. Include up to three photos with your description and get direct emails from visitors interested in your ride.
Each ride will be listed on every page of EquestrianVacations.com. You may also upgrade your listing to include it in our featured rides sidebar or our home page featured listing spot.
View a sample advertiser ride page.
All listings are on a month to month basis, three months paid in full for first time listing.
Equestrian Vacations holds several high rankings in Google and generates thousands of page views every day from visitors.
Get Your Ride Listed In EquestrianVacations.com Now
Or, view a sample advertiser ride.
featured rides
our rides
sample rides