Horseback Ride Advertising SAMPLE
Live The Irish Country Life (SAMPLE RIDE)
An equestrian getaway of a live life time!
Title: Irish Country Equestrian Ride
Description: 7 days in the Irish Country
Price: $??? (varies)
For those of you who have always wanted to live in Ireland , Cross Country International is excited to announce the chance to "Live the Irish Country Life!"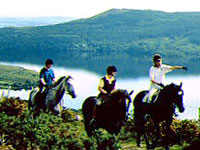 Get more information on this ride, or sign up now to be contacted about this ride opportunity!
Spend a week in your own Georgian Hunter's Yard Lodge and stables with your Irish horses just outside the door. You and your friends can rent The Lodge for seven nights in the enchanting village of Adare, Limerick County, Ireland.
Included in the ride package: your Irish horse, a 3-bedroom cottage with full kitchen, living room, dining area, 2 baths, working fireplace and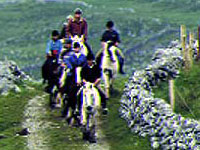 You can walk out each morning from your cottage on the grounds of the Clonshire Equestrian Centre, collect your horse, and ride everyday. You will be able to jump cross-country or over show jumping fences, take lessons or go for a long hack for seven days!
The house sleeps up to five people and is just minutes from the village, where you can peruse the shops, thatched cottages, museums and antique stores.
You can also enjoy fox hunting, clay shooting, river and lake angling, and golfing, with easy access to Ballybunion and Lahinch courses. Other attractions include the Limerick Race Course or one of six other racing meets within an hour of your cottage, plus local horse events held each Sunday. You can even visit the National Stud, just 2 hours away, or watch hounds being exercised each day from the kennels located right out your backdoor. If you don't want to cook, a wonderful local private chef can prepare your meals for you, or you can dine in one of the many local restaurants.
Ride Sign Up and Information
To find out more about this ride or to book this ride, please fill out the following form
PLEASE NOTE: This is a sample advertiser ride page, the following form is not functional. See our advertiser page if you want to list your ride on EquestrianVacations.com
Return to advertiser page for further information on getting your own ride advertiser page like this one on EquestrianVacations.com!
featured rides
our rides
sample rides