Vermont's Green Mountain Ride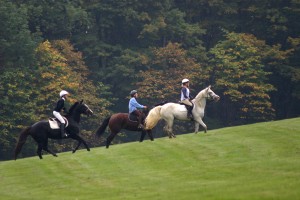 Set in the heart of the Green Mountains your base for this fun ride is at the lovely Mountain Top Inn and Resort. Boasting great riding trails that wander through the Green Mountain National Forest, riders have many opportunities for long trots and canters (english and western saddles available) down winding dirt roads and paths that disappear into around the bend of wooded lanes. For those that want to hone their skills, the equestrian center has ample opportunity for jumping lessons both in the arena and in the cross country field. Additionally, for children, they have a nice selection of ponies and offer an arena designated for newer/younger riders.
The inn was formerly a retreat for a wealthy family and as such, it features very comfortable and welcoming rooms. It additionally offers activities for all family members including swimming in the pool, swimming and kayaking on the lake, hiking, mountain biking, fishing, sporting clays and tennis courts. After a day of all the fun activity, you may choose to schedule a well deserved massage with one of the talented professionals on staff. In the winter months, both downhill and cross country skiing as well as snow shoeing are available.
For those that want to plan a larger group event, the inn has exquisite chalet homes available. The chalet homes are luxuriously designed with wonderful living rooms complete with fireplaces, a full kitchen, a private deck to enjoy the sunsets and often recreation rooms as well. The bedrooms each include a bathroom, most ensuite. These chalet homes are ideal for groups traveling together that want to have their own private space for socializing in a more private environ.
Dates: Arrive any week on Sunday or Monday for a 4 night stay.
Packages include 4 nights accommodation, breakfast each day, 7 riding units, horse, tack, guide and all taxes.
(a riding unit consists of either a lesson in any discipline or a 2 hour trail ride)
Longer or shorter packages available as well as weekend packages for additional fee. Please call for availability.
Rates: $1,195.00 USD per person in a shared room
(Single Supplement or non riding companion in the same room: $220.00 USD)
****Special Offer*****
Reserve one of the lovely chalets for a group of 5 or more and a duration of 2-7 nights and receive a 15% discount (based on availability). Prices based on group size, call for more details.
Special Interest: The Mountain Top Inn will be offering a very special equine photo workshop with photo journalist Nina Fuller. Nina is a nationally acclaimed photographer, photojournalist and travel writer with a broad range of clients. To learn more about Nina Fuller and this workshop visit her website: www.ninafuller.net or contact her by email: ninafuller[at]adelphia.net
Ride Sign Up and Information
To find out more about this ride or to book this ride, please fill out the following form
featured rides
our rides
sample rides